About CCHS
When James Hamilton, Jr., died in 1873, he left no heirs but he did leave a legacy that has benefited historians and residents of Cumberland County for more than a century. In his will he bequeathed a sum of $2,000 and a sixty-foot square lot in downtown Carlisle for the establishment of a library.
James Hamilton, Jr., graduated from Dickinson College in 1812. Following in his father's footsteps, he studied law and was admitted to the bar in 1816. He was described as "a respected lawyer and a person of affluent circumstances who preferred living a quiet and retired life".
In writing the constitution of the Library, Hamilton's executors interpreted his wishes. They were explicit that the Library was for "the advancement of literature and the elucidation and preservation of the history of Cumberland County." Accordingly on April 17, 1874, a "Hamilton Library and Historical Association of Cumberland County" was proposed, making CCHS one of the first county historical societies established in Pennsylvania.
After the first fund raiser, a well publicized "Grand Concert" held in the local Opera House, the building, "a very pretty and suitable structure of brick and two-storied", was underway by the late spring of 1881.
For about 75 years the Society's primary efforts were directed toward the development of the research library and the reading of historical papers. During these years, however, the Society also acquired items, through gifts, that were displayed in the reading room and in available space on the second floor. The areas eventually evolved into gallery space.
After World War II development of a more effective museum became a priority. Building expansions provided additional space. Efforts to build the museum collections received generous support from the community. In the 1970s exhibits were developed and modern record keeping and conservation practices led the way for an active exhibition program.
During the 1980s the Society's financial base was enhanced by an endowment campaign to hire professional staff. The endowment continues to grow today under the guidance of an active Board of Trustees.
CCHS was designated as the official Historical Society for the county by the County Commissioners in 1987. Growth in activities has also resulted from the educational partnership with the county's school districts established in 1989. In 1992 The Two Mile House was bequeathed to the Society by Mary Wheeler King, and in 2004 CCHS acquired the building at 29-33 West High Street, which is now home to its award-winning museum shop.
Increased visitation, membership and volunteers as well as increases to the Society's collections during the last three decades caused a need for more space. The Society completed a three-year capital campaign in 1996 to expand its building on Pitt Street. In 1997 the new addition was opened and doubled the size of the Society's home. The top floor of this new addition became a redesigned museum that opened in 2005.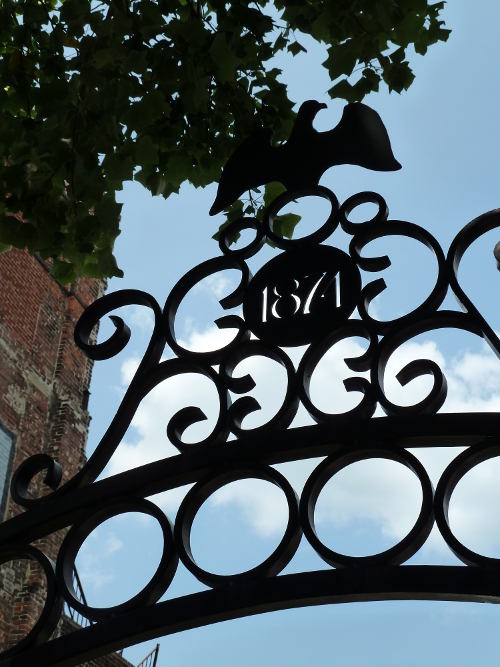 View past Annual Reports