About the Museum
The Cumberland County Historical Society offers a free museum that is open to everyone:
21 N. Pitt Street, Carlisle, PA 17013
Tuesday-Friday: 10am-4pm
Saturday – November 1st – April 14th – 10:00 a.m. – 2:00 p.m.
Saturday – April 15th – October 31st – 10:00 a.m. – 4:00 p.m.
Count on spending at least half a day to explore the entirety of our permanent galleries or spend some time in our focused galleries including the Carlisle Indian School, folk art (including Wilhelm Schimmel), and more.
Tours are self-guided, and photographs are allowed!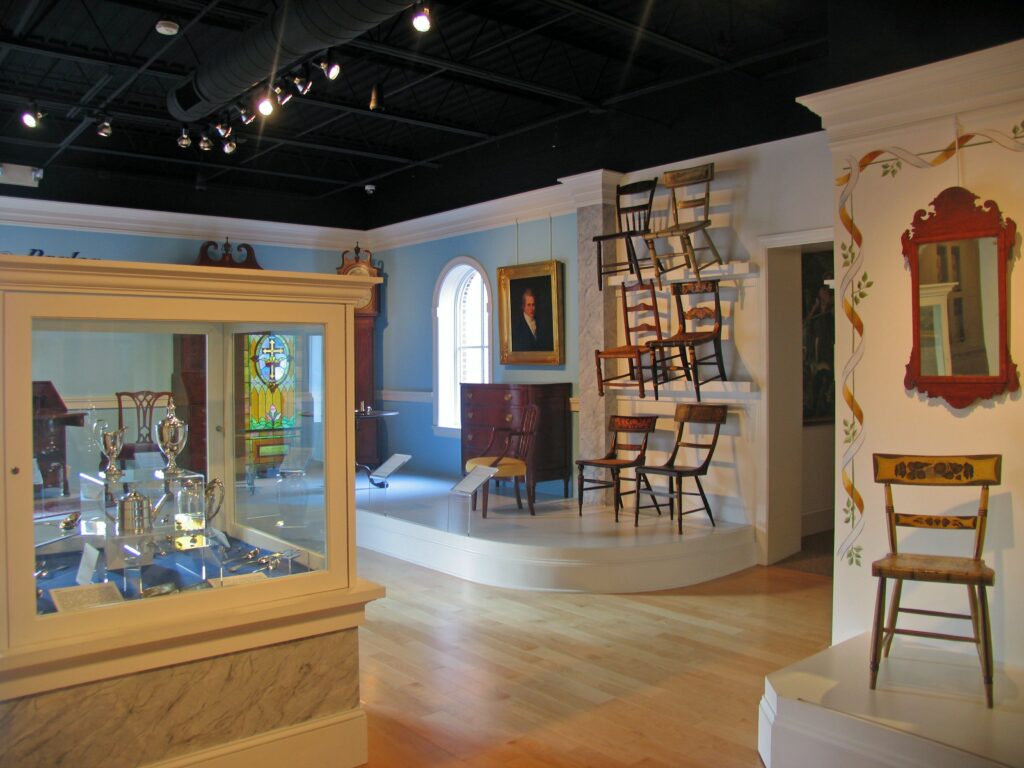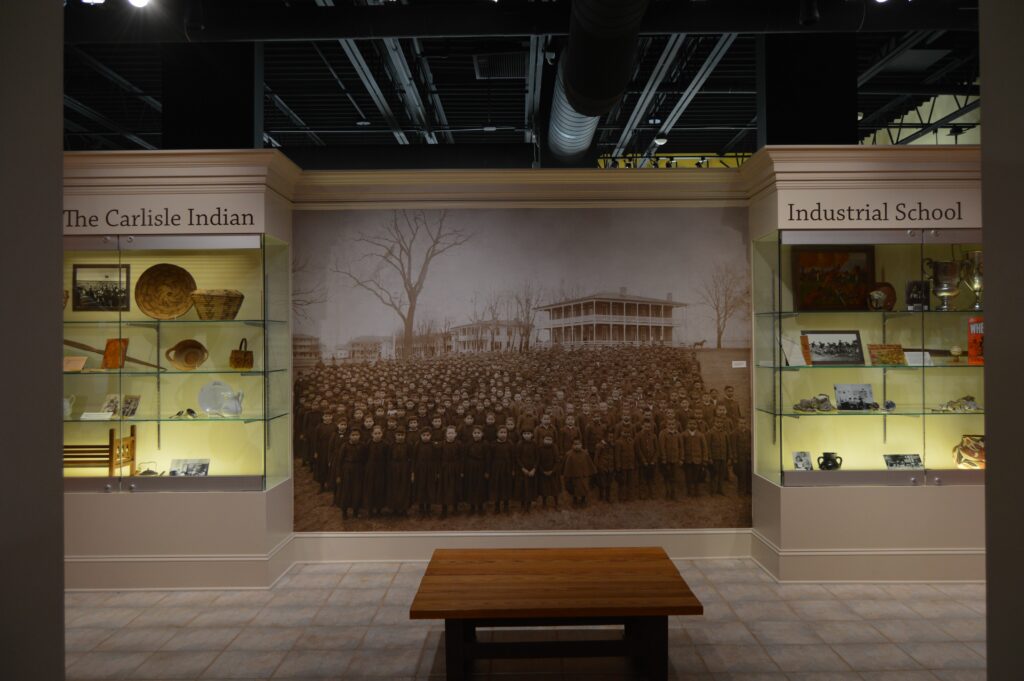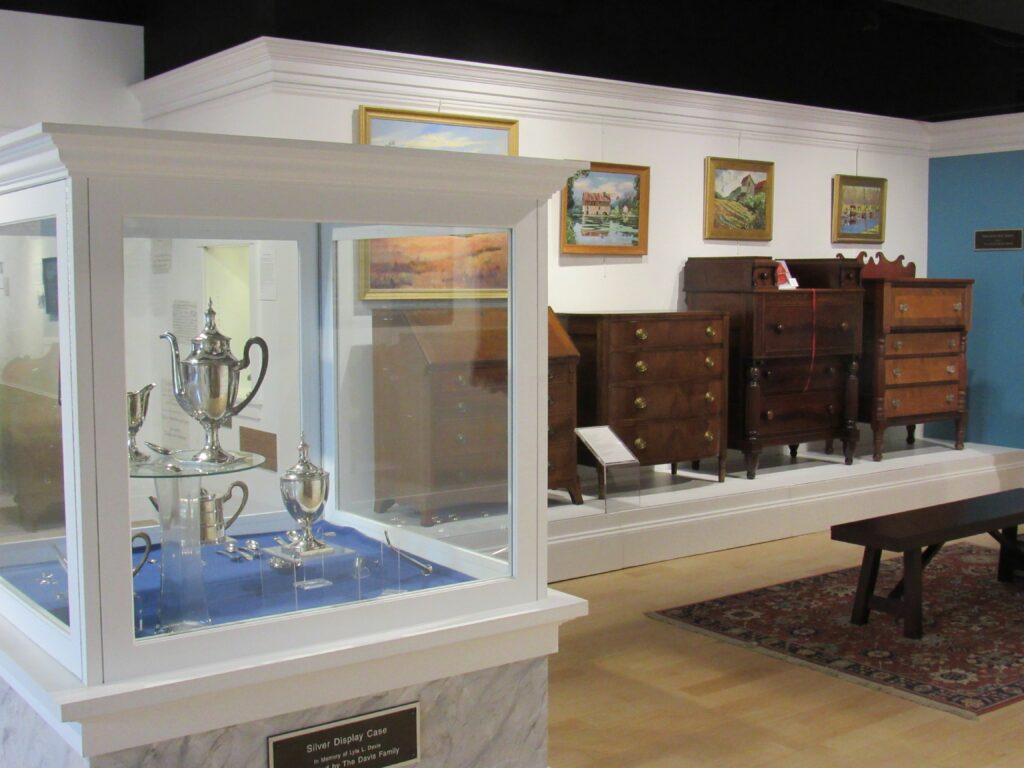 CCHS Scope of Collections
Background
The Cumberland County Historical Society's (CCHS) collections seeks to acquire, preserve, and maintain materials pertaining to the history of Cumberland County and its citizens from the formation of the county to the present day. Materials may include the prehistory of the county, but the majority of the collection is from 1750 to the present. Early interest in the museum was spurred by showings of Civil War relics from CCHS members, the 1901 Sesquicentennial of Cumberland County, and a collection of early American items loaned to the 1907 Jamestown Exposition. Donations in the first decade of the 1900s include a little bit of everything: colonial currency, Civil War cannonballs, candlesticks and lamps, a spinning wheel, a wooden plow and other agricultural implements, even a "queer shaped stone."
Objects in the collection typically have been manufactured in or have a tangible historical tie to Cumberland County. As of 2022, the collection contains approximately 11,200 individual artifacts. Those counties and areas of counties originally part of Cumberland are included in the collection up to their separation dates; thereafter, the collection is limited to Cumberland County as presently constituted. Of items specifically tied to a township or borough, approximately 70% are from Carlisle, 9% from Shippensburg, between 3-4% each from South Middleton, Newville, and Mechanicsburg, and 2% or less from each of the remaining townships or boroughs. Not every object, however, has their associated borough/township identification recorded in a searchable way, and some objects are of multiple or unidentified origin.
Highlights
Highlights of the CCHS museum collection include folk art woodcarvings to Native American boarding school projects. The Carlisle Indian Industrial School (1879-1918) Collection contains crafts and trades made by the students as well as school materials used by the Native American students in their boarding school life, such as a small CIIS uniform jacket. We have a quality collection of items made by artisans in the county's first century, including clockmakers, cabinetmakers, and silversmiths.  Of note is a silver tea set made by silversmith George Hendel for tavernkeepers Thomas and Rebecca Foster in 1803.  A more modern inventor, Daniel Drawbaugh, tinkered with the telephone and electricity, earning many patents and having one of his prize pieces proudly on exhibit here: a large clock powered by the earth's natural electricity. Our museum is also home to over thirty carved animals by folk art carver Wilhelm Schimmel.  One of our most diverse collections represents Pine Grove Furnace from 1764 to the present, which covers everything from ironworking to German Prisoners of War, including a series of wall murals painted by the POWs.
Collecting and Research
Besides always expanding on the collections above, our museum appreciates inquiries about items from the West Shore communities, Newville, Newburg, Mt. Holly Springs, Shippensburg, Mechanicsburg, Shiremanstown, and the county's townships. We also are seeking other items that speak to the history of the 20th century, religious history, immigration and settlement history, African-American history, and/or agricultural history. We are gratefully accepting donations that tell other stories of Cumberland County, too! We typically limit the amount of clothing and textiles added to our collection.  Of the items currently in our collection, we would like to see further research and publications on the carvings of Wilhelm Schimmel and the coverlet weavers of the county.
Museum Tours
Group tours are available by reaching out to Cijianna Berry, Associate Museum Curator, at cberry@historicalsociety.com.
Join long time museum docent Yvonne Davidson for a tour of the museum prior to the 2017/18 renovations: