Board
Carmen James, President
Pat Ferris, Vice President
Tom Coolidge, Treasurer
David Smith, Secretary
John Lyter, Museum Committee Chair
Tad Miller, Archives and Library Chair
Don Paul Shearer, Infrastructure Chair
Alvin Blitz, Planned Giving Chair
Charles Allen
Randy Heishman
Kevin Hess
David Park
Alison Ross
Merri Lou Schaumann
Julie Young
Meet the Team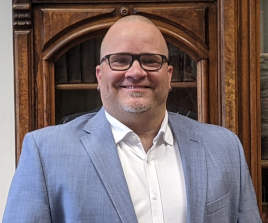 Shawn Gladden
Executive Director
As Executive Director, I oversee the operations at the Cumberland Historical Society. I started with the organization in 2022 after moving to Pennsylvania from Ellicott City, Maryland where I had lived for most of my life. I have a passion for history that stemmed from my childhood travels to Civil War Battlefields with my Father. I hold a B.S. in History from Towson University and a M.A. in History from George Mason University, graduating from their "History and New Media" program in 2006. I also spent time studying History at Cambridge University in the U.K. as a part of a Fellowship through GMU.
I am a Museum Professional with over 20 years of experience in Exhibit Curation, Collections Management, Development, Historic Properties management, Retail, and Education. In addition, I am an Adjunct Professor of History with expertise in Reconstruction, Southern U.S., African American, and US Political History.
Contact Shawn by phone 717-249-7610 ext. 103 or send an email to sgladden@historicalsociety.com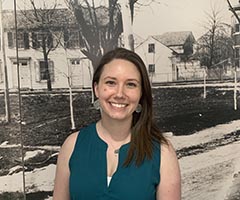 Cijianna Berry
Associate Curator
As the Associate Curator, I work closely with the 3-D collection by caring for and preserving each item in the CCHS collection. I am a graduate of Shippensburg University, Class of 2020, Applied History – Museum Studies program. I have a background in textile conservation and material culture. My ultimate goal is to use the skills that I have to help further the stories that connect people to the past.
Contact Cijianna by email cberry@historicalsociety.com.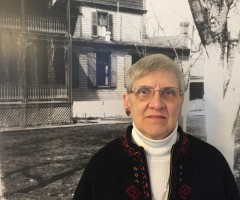 Beverly Bone
Archives & Library Assistant
I work in the Archives and Library assisting patrons with their research and performing research for the many inquiries CCHS receives. I have been working at CCHS for nine years.
Cumberland County history is my history. My ancestors have been here since the county was formed. My favorite historical person is Abraham Lincoln. He came from a very humble and honest beginning to become a great president during one of our most critical periods of history. I believe if he had not been killed, the wounds of the Civil War would have been healed more appropriately and would have made our lives better today for all races. The best way to reach me is by calling CCHS at 717-249-7610.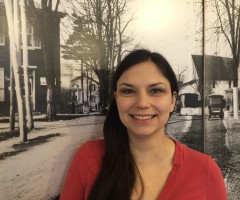 Cara Curtis
Archives & Library Director
I've been the Archives and Library Director at CCHS since 2008. My favorite thing about Cumberland County's history is its richness.
There is something to interest everyone. Our history includes: being Mother Cumberland, helping develop modern football at the Carlisle Indian Industrial School, and housing an interrogation camp for German and Japanese POWs during World War II. The best way to reach me is by email ccurtis@historicalsociety.com. My favorite person from history is Wolfe Tone. I have always been fond of Irish and Scottish history particularly the subjection of the people of those governments by the English government and how they fought back against the government. He was a leader of the United Irishman who helped lead a failed rebellion against the English.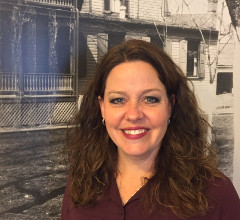 Sharon Filipovich
Community Outreach Coordinator
I am the Community Outreach Coordinator. I have lived in Cumberland County for more than 20 years with my husband and 3 children. I have a special interest in homes that were built in the late 1700s to early 1800s. I love history and feel that you have to know the past to appreciate the future.
Questions about a CCHS Event or Rental? Call Sharon at 717-249-7610 ext. 122 or send an email to sfilipovich@historicalsociety.com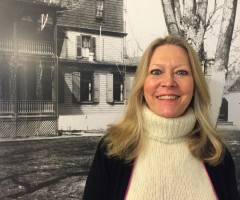 Kim Laidler
Museum Store Manager
My role at CCHS is the Manager for History on High- The Shop. I started working for CCHS in 2004.
My favorite thing about Cumberland County is the friendliness and beauty of its people and places. The best way to get a hold of me is by calling the shop's direct line 717-249-1626. My favorite historical person is Dolly Madison. As a grade-schooler I adored reading about her life. I love her bravery and the way she saved so many historical artifacts for our future when many during her time did not know what the future of the U.S. would look like!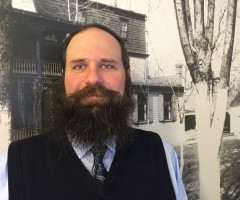 Matthew March
Education Director
I have worked at the CCHS since 2006. I am currently the Education Curator. My favorite aspect of the county's history is that our geography has made us an incredibly important place.
From ancient hunting and trade trails to the keystone of the Union our location has provided for the myriad of amazing stories that I like to share with the public. I would have to say my favorite personality from Cumberland County is Frederick Watts. A true Renaissance man, his many pursuits included being a lawyer, judge, business mogul, and agricultural reformer. If I can be of any assistance please email me at mmarch@historicalsociety.com.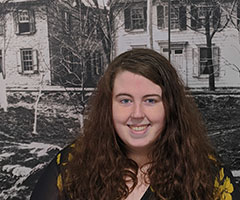 Jennifer Patel
Archives and Library Assistant (Processing)
As an Archives and Library Assistant, I work to process incoming collection materials at CCHS. Though I grew up in Maine, I have called Cumberland County my home since 2011. What I love most about working here is that I am continually learning more and more about the county's rich and diverse history.
The best way to contact me is by e-mail at jpatel@historicalsociety.com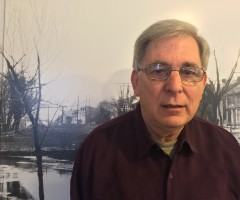 Richard Tritt
Archives & Library Photograph Curator
I've been involved with CCHS since 1985. I was first a volunteer and then was hired in 1986 to do a photo grant. After retiring from a teaching career, I was hired as Museum/Photo Curator in 1990.
As CCHS grew, I became the full-time Photo Curator. My favorite thing about working here is that you learn something new every day and the staff is like family. The best way to contact me is to call CCHS at 717-249-7610, but email rtritt@historicalsociety.com is fine as well.
My favorite historical person is John Choate, the photographer; because I have worked with his photos for so long and think he would have been an interesting individual.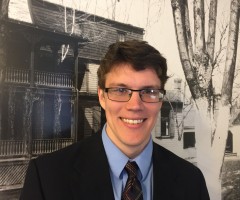 Blair Williams
Archives & Library Assistant Director
As the Archives and Library Assistant Director I help people share their stories through the Elizabeth V. and George F. Gardner Digital Library (at gardnerlibrary.org) along with overseeing other media initiatives including filming programs.
I have been with CCHS since July 2014 where I have come to truly appreciate the deep connection the community has with its history from the stories of early cabinetmakers like Patrick Culp to the more recent stories shared through the Gardner project. The best way to get a hold of me is via email at blwilliams@historicalsociety.com. And being from Vermont I have always been partial to Calvin Coolidge.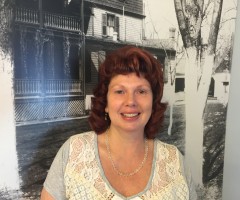 Lucy Wolf
Bookkeeper
I serve as CCHS' Bookkeeper. I was previously the Society's Receptionist for 10 years. My favorite thing about our county's history is its diversity.
I grew up in Carlisle as did my mother and I remember hearing about her years living and working here and the many people and places she knew in Cumberland County. My favorite historical person, or people, would be the men and women who served in WWII and all of our veterans. The best way to contact me is via email at lwolf@historicalsociety.com.