Rakestraws Entrepreneurial Spirit – Window to History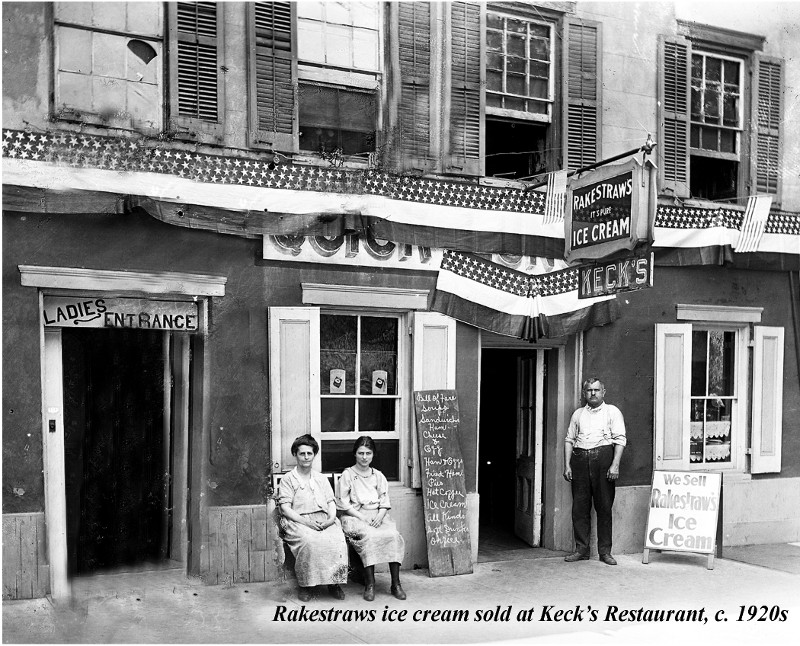 Roy E. Rakestraw was working as a clerk at Bruner Meat Market in Mechanicsburg when he decided to open his own business making ice cream in 1903.  His business quickly outgrew the small building on Main Street and another building on the first block of Market Street.  Throughout the years, Roy expanded his product to include ice cream mix, powdered milk, condensed milk, and bottled milk.  He developed a market for his products all along the east coast.  He even sold oysters.
Mr. Rakestraw valued entrepreneurship, as the story from a lifetime Rakestraws employee (plant operations manager) illustrates.  According to Russel Hale, he began working for Rakestraw at the age of ten.  The ambitious young Hale ran his own ice delivery business with a wagon which he expanded to include small package deliveries to and from the railway office.  Rakestraw hired Hale to deliver ice cream to a local church for a Sunday School event.  When Hale returned from his delivery Rakestraw offered either five cents or an ice cream cone.  The boy's preference for the cash made the older man smile and offer the boy more business deliveries.
In keeping with the entrepreneurial spirit Rakestraw was one of the first in Mechanicsburg to own an electric refrigerator and an oil burner.  He purchased delivery trucks and refrigerator tractor-trailers for his company at the earliest time of their availability.  And when PP&L tried to coerce him into using their company, (telling him "You can't do without us") Rakestraw responded by making his own electricity with two generators.
Although Rakestraw died in 1950 and the business has passed through many hands, Rakestraws Ice Cream Shop continues to be a Mechanicsburg icon.  An ice cream cone at Rakestraws is summer tradition for many people in the county since 1903.
Image: Keck's Quick Lunch Restaurant, c. 1919 (CCHS Photo Archive)
This Window to History is on exhibit until January 2018.