Museum Renovations Update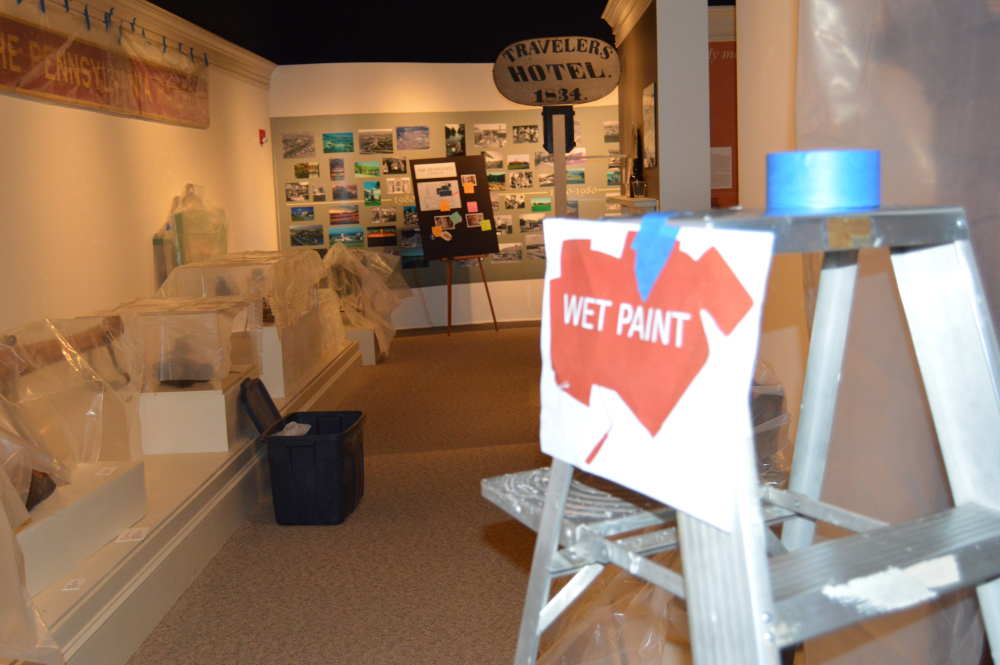 The Museum has been taking on a different look the last few months.  Thanks to a generous response from friends of the Historical Society, we now have the resources to make some of the changes we've been dreaming about these last several years. Fortunately, the bones of the museum space are already lovely, and the previous 2005 museum committee put together a beautiful set of exhibit galleries. So, we have the luxury of refreshing tattered graphics, bringing out other artifacts from the collection in storage, and peppering the museum with interactive exhibits and "fun facts" that help tell the unique stories of residents here in the county. Of course, a part of refreshing means painting so we've taken the opportunity to change a few wall colors here and there.  Visitors will notice new signage as well, which we hope will make navigation through the galleries easier and more meaningful. The welcome label right off the elevator helps county residents understand that the museum (and really, the entire historical society) appreciates the trust you have shown us with your family stories. In addition, we've taken the opportunity to talk a little about how we care for your family treasures and to help visitors identify interactive elements in the museum that can be touched and manipulated. We are keeping the museum open during renovations and hope you will stop in a few times in the next several months to see how we are coming along.  Just be ready to walk around ladders, tools, and sticky notes!
As a side note, we dropped renovations for a few weeks to prepare for our annual Family Holiday Program in Todd Hall and the G.B History Workshop at CCHS on Saturday, December 2nd from 10am to 12noon. The program offers parents a place to help their children make holiday crafts, take a free photo with Santa (parents, don't forget your camera!), and enjoy holiday cookies.  This free event has become a way for families to kick off the holiday season.  Many, many thanks to the volunteers that make this special time happen. See you there!  And Happy Happy Holidays to you and your family.
Peggy Huffman, Assistant Curator