History On High Shop Experience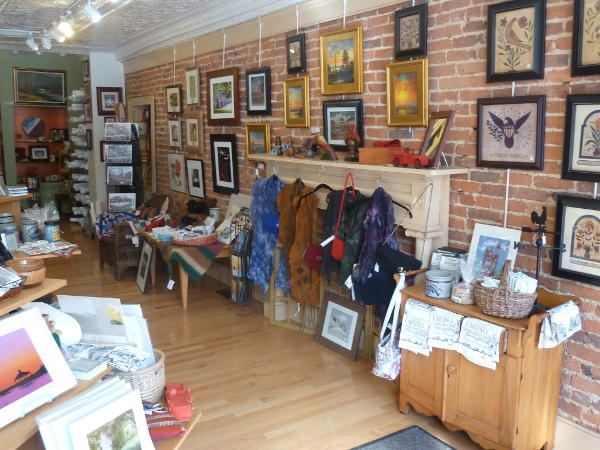 When I reflect upon my college experience, it isn't usually Dickinson College campus that embodied my four years, it is actually the surrounding experiences: my summer internships, study abroad semester in Copenhagen, multiple retreats, hikes, and finally my work study job as the: Sales Clerk at the History on High shop in Downtown Carlisle. These opportunities helped me grow from the outside in, and when I returned back to my seat in a psychology class I felt more cultured and polished from the myriad of professional adventures. The one I am focusing on is my job at the History on High Shop and where that has brought me currently as I type this in my apartment in Downtown Allentown, Pennsylvania.
My sophomore year I lived off-campus in an apartment complex called "The Site" directly in the heart of downtown Carlisle, across from the old-time movie theater and right next to the History on High Shop. I always passed by the history shop hurriedly in a rush to class, but was particularly moved by the decorative art in the window sill and wondered what antiques and crafts adorned the entire store. I remember it was Halloween and employees were giving away candy to children, and this invited me to take a closer look at the shop and that is when I met Kim, my boss. I was looking for a work-study job and preferably to work downtown close to my apartment, this seemed like a perfect fit! And it was…
I worked at the History on High Shop for two years as their sales clerk and it was a refreshing escape from the bubbled Dickinson life as a student. I interacted with locals and tourists as well as the caring volunteers. The shop had a nice rhythm to it of people window shopping for holiday gifts or students searching for the perfect birthday present for a roommate. One of my favorite memories was meeting a couple from Canada who took a yearly road trip to Carlisle because they loved the rich history and scenic area. We talked for close to an hour as they shopped for Carlisle treats. Locals shared their stories with me and sometimes I shared parts of my life in return, all the while making sales.
The History on High shop is unique because it offers a little something for everyone. There is a children's area connected to the shop that offers art lessons and educational workshops with hands-on experiences for kids to connect with items like type-writers within this digital age. The shop also offers books for history lovers and local arts and crafts, most pertaining to Carlisle and the surrounding areas. Every time I walked around the shop taking inventory or dusting a shelf, I noticed something new each time, speaking to the depth of the store.
This job was a real stepping stone to my professional career because of the opportunities I got from working in sales: customer service, inventory, efficiency, multi-tasking, and being extremely task oriented. I have no doubt that being friendly with customers helped me step out of my comfort zone even more and it taught me how to sell certain items to certain people based off of their interests and whereabouts. Through my years of learning from Kim, I found my love for small independent shops like the History on High Shop. I lived in Carlisle in an interesting time where new coffee shops aligned Hanover and High Street and I saw the downtown blossom quickly. I was also a consumer of many local shops including: Clothes Vine, Helena's Creperie, and Cafe Bruges.
This passion for retaining and growing independent businesses has led me to my next endeavor. I have been a resident of Downtown Allentown for the past two years and have grown to love this area. I am studying Politics and Policy at Lehigh University for my Master's and am interested in Urban Development, specifically: how to create as much inclusivity for all shops to be represented as Allentown is revitalizing its downtown efforts.
I believe that businesses, especially small independent shops are the backbone of bringing entertainment, commerce, and personality to downtown and driving economic success. My job as the Business Relationship Manager with Downtown Allentown Business Alliance is to serve as a conduit to small independent businesses in downtown that are outside of the businesses currently served, evaluating the economic climate of Downtown Allentown and developing the best approach for growing the economic base. I owe it all to my short time at the History on High Shop gaining valuable skills that shaped my path here.
Chloe Goldstein, Dickinson College Class of 2018