Talks and Presentations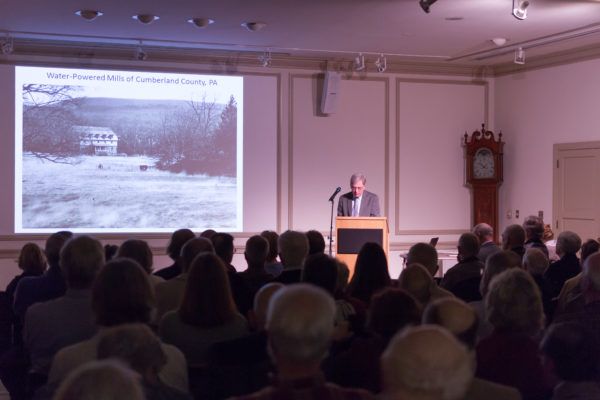 Fall/Winter 2017/2018 Talks and Presentations
The Richard C. Reed Architectural Lecture
Thursday, September 21, 2017 – 7 PM
Thanks to the generous support of Society member Maureen Reed and her family, CCHS will host its second annual R.C. Reed lecture on Contemporary Architecture. Carlisle native John P. Reed, Design Principal of Cannon Design New York City, will trace the evolution of an idea and narrative meaning through the design process of four major building types including government, science, student center and fitness buildings.
Fall History Series
Monday, September 11, 2017 – Monday, October 2, 2017 – 6:30 – 8:30 PM
Cumberland County was founded in a violent game of empires.  The Europeans that settled the county learned hard lessons from wars and revolutions, lessons that shaped county history for over a century.  In a series of four presentations Jeff Wood will tell the dramatic story of the Cumberland Valley from 1730 to the eve of the Civil War.  Native history, Scots-Irish and German settlement, tensions with colonial government, early national identity, the Whiskey Rebellion, and the legacy of a frontier spirit will all be woven into the story.
Jeff Wood is the owner of Whistlestop Bookshop, an independent book store founded in 1985, past-president of the Bosler Memorial Library and the Cumberland County Historical Society, and presenter of the CCHS's Fall Series since 2000.  He is an adjunct instructor of American Studies at Dickinson College.
Carlisle and Mount Holly Trolley presented by Randy Watts
Wednesday, October 4, 2017 – 1:30 PM
Monday, October 9, 2017 – 6:30 PM           
The "Holly Trolley" operated from 1900 to 1930.  The trolley had its ups and downs along the route and so did the company throughout its history.  One of the main attractions of the Holly Trolley was the amusement park at Mount Holly.  This program will cover the history of the line from its start to abandonment.  It also provides an in-depth history of the park and how it changed over the years.  Randy Watts, the presenter, recently published a comprehensive history of the trolley line, and his program will be of interest to anyone who has ever heard the expression "The Holly Trolley."
Cumberland Railway – Newville Trolley presented by Randy Watts
Monday, October 16, 2017 – 6:30 PM
Wednesday, October 18, 2017 – 1:30 PM
This program covers the short-lived and little known trolley line from Carlisle to Newville, known officially as the Cumberland Railway Company.  The trolley operated along the Newville Road from 1910 to 1920, and even operated a trolley park near Cemetery Hill.  The story of some of the people is as interesting as the trolley itself.  Randy Watts recently published a book on the Newville trolley line, and this program will feature an interesting array of information from the book.
Charcoal Hearths, Collier Huts, and Haul Roads: Traces of the Iron Industry across South Mountain presented by Andre Weltman
Andre Weltman, chairman of the Friends of Pine Grove Furnace State Park, will discuss the connection between the 19th century charcoal iron industry and today's South Mountain landscape.  Modern trails and campsites often overlap with still-visible remnants of an important part of iron making: transforming the forests into charcoal fuel for the region's iron furnaces.
Alexander Logan, Early Settler presented by Linda Gilmore
Wednesday, November 8, 2017 – 1:30 PM
Travel back in time to the mid-1700s and discover the story of Alexander Logan, Cumberland Valley and Sherman's Valley settler.  Linda Martin Gilmore will describe Logan's 1763 skirmish with the Indians in Sherman's Valley and the role played by the Carlisle sheriff and his party of men, found in her book Peril and Perseverance in the Pennsylvania Backcountry: Sherman's Valley, Tuscarora Valley & the Mouth of the Juniata.
Wednesdays in Winter
Wednesday, February 7, 2018 – 1:30 PM
Clark's Tavern & Ferries by Victor Hart
Mr. Hart will present a slide presentation on the history of the growth and decline of Clark's ferry & tavern business.  It also describes a four-year archaeological study done around Clark's Ferry Tavern in Duncannon, PA and a preliminary architectural study of the historic tavern building.
Wednesday, February 14, 2018 – 1:30 PM
The Captivity Narrative: The Stories of the McCullough & Lowry Families by Tad Miller
This is the true story of two Cumberland County families that were captured by Indians during the French & Indian War, how they were captured and what happened to them.  Did they ever come back?  Come to the lecture and find out.
Wednesday, February 21, 2018 – 1:30 PM
Carlisle Indian School Outings in Wellsville, Pa by Barbara Landis & Merri Lou Schaumann
Between 1890 and 1907 35 Carlisle Indian School girls lived on "Outing" with seven families in the village of Wellsville, York County, PA.  Who were these girls and who were the families with whom they lived and worked?  Merri Lou Schaumann and Barbara Landis will attempt to answer these questions.
Wednesday, February 28, 2018 – 1:30 PM
Philadelphia's Newest Gem: The Museum of the American Revolution by Matthew Skic
On April 19, 2017, the Museum of the American Revolution opened with great fanfare in the heart of historic Philadelphia.  Assistant Curator Matthew Skic will discuss the history of the project to create this new institution and present highlights from the Museum's main exhibit and collection, including General George Washington's war tent.
Wednesday, March 7, 2018 – 1:30 PM
Highlights of the Jim Bradley Photograph Collection by Richard Tritt
Richard Tritt, CCHS Photo Curator, will present a visual overview of the recently accessioned Jim Bradley Photo Collection.  This lifetime collection is divided into four parts: (1)railroads, (2) Cumberland and surrounding counties, (3) Bradley and related families, and (4) miscellaneous subjects.  Come and enjoy the unique and artistic images of this talented photographer.
Wednesday, March 14, 2018 – 1:30 PM
Historic Barns of Southeastern Pennsylvania by Greg Huber
This presentation is on barns located in Southeastern Pennsylvania, or, specifically, "the hearth," the area east of the Susquehanna River and south of the Blue Mountains.  Greg will discuss primary factors that have determined the fundamental structures and appearances of the six great barn classifications, including forest resources.  Other featured topics are architectural aspects and regionalisms, dates of construction, survival of 18th-century examples, mysterious decorations, and barn preservation.
Past Talks and Presentations
2017
Carlisle Indian Industrial School Virtual Tour – Presented by Barbara Landis
Women and Women's Groups of Cumberland County in World War I presented by Sandy Mader
Lenore Embick Flower presented by Dawn Flower-Webb and Lenore R. Flower
African-American Troops from Cumberland County in World War I presented by Stephanie Jirard
Monuments, Men, and Memory presented by Dr. Steven Burg
The Centenary of US Entry into World War I with Special Focus on the Service of Volunteer Fire Companies presented by Randy Watts
Railroads of Lemoyne presented by Randy Watts
2016
Poetry Reading by Mary Anne Morefield
Mid-Century, Middle Class, and Modern presented by Wendy Pires
The Park Before the Park presented by Dr. Andre Weltman
Carlisle Indian School Outings along the Railroad, Carlisle to Gettysburg presented by Barbara Landis
2015
Mills of Cumberland County – 2015 Cumberland County Historical Society Exhibit Opening presented by from Richard Tritt, CCHS Photo Curator and Dr. Dorothy Merritts of Franklin and Marshall College.
Shared Histories of African Americans and Native Americans in Cumberland County presented by Sandy Mader
2014
Carlisle Journeys: American Indians in Show Business
2013
Millicent Line Kitzmiller presented by Sandy Mader
For additional information on any of our programs, please contact:
Lynda Mann, Programming & Membership Coordinator at 717 249 7610.