Talks and Presentations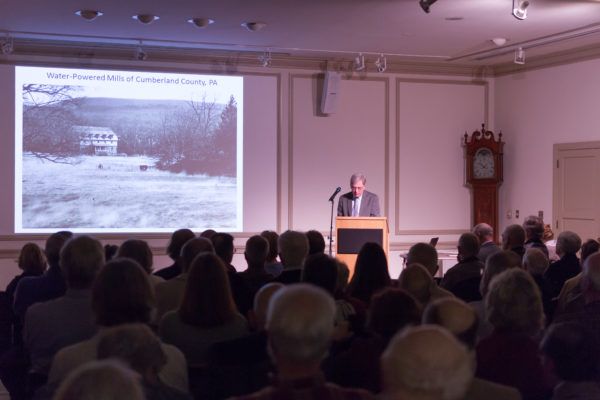 Fall/Winter 2016 – 2017 Talks and Presentations
Dark at First Light with Joan West on Wednesday, October 26, 2016: 1:30 PM
Joan will discuss History in Fiction (specifically the impact of the Battle of Monmouth in the Revolutionary War) and the research involved to make historical fiction credible, as in her third novel, Dark at First Light.
One Block, 300 Years of Cumberland County History by Randy Watts on Wednesday, November 9, 2016: 1:30 PM
The first block of W. High Street is full of history.  Randy will discuss some of the highlights of the County's history.  This includes famous people like Benjamin Franklin, George Washington, President Grant, and Geronimo.  We will hear about significant events in our Country's history including the French and Indian War, the American Revolution, and the Civil War.
Babes in the Woods Story by David Smith on Monday, November 21, 2016: 6:30 PM
Through David's research he has discovered some interesting facts regarding the Babes in the Woods incident that occurred just over 80 years ago, in November 1934.  Join us as David talks about his new publication, Babes in the Woods Story.
Fall History Series
Monday, September 12, 2016 – Monday, October 24, 2016 – 6:30 – 8:30 PM
Jeff Wood has presented the Fall Series at the Society since 2000.  He is the owner of the Whistlestop Bookshop and past-President of the Cumberland County Historical Society and Bosler Library.  Every year the Fall Series has retold the history of the County from its founding to the present day.
The title of this year's seven sessions is "Essentials of Cumberland County History: People, Places, and Times."  The series will be a basic introduction to local and regional history from colonial times to the present.  Each week the topic will be presented with a central story about particular people in the county and the historical context of their adventures.  The stories will be drawn from all over the county.  The series consists of lectures and audience discussion.  It will be supported with PowerPoint tours of relevant county sites, events, and objects of interest from local collections and the Historical Society's archives. Register for the series.
Annual Dinner
Cooper Wingert – "Slavery and the Underground Railroad in South Central Pennsylvania." onTuesday, October 25, 2016 at 6:15 PM Reception / 7 PM Dinner / Cost $50 per person
Guest Speaker – Historian Cooper Wingert reveals the struggles between slavery and abolition in South Central Pennsylvania. Register Here.
Wednesdays in Winter
Wednesday, February 1, 2017: 1:30 PM
Railroads of Lemoyne – Presented by Randy Watts
Wednesday, February 8, 2017: 1:30 PM
The Centenary of US Entry into World War I with Special Focus on the Service of Volunteer Fire Companies – Presented by Randy Watts and Sandy Mader
Wednesday, February 15, 2017: 1:30 PM
Monuments, Men, and Memory: Remembering and Forgetting the Great War in Shippensburg, PA – Presented by Steven Burg, Shippensburg University
Wednesday, February 22, 2017: 1:30 PM
African-American Troops from Cumberland County in World War I – Celebrate African-American History Month – Presented by Stephanie Jirard, Shippensburg University
Wednesday, March 1, 2017: 1:30 PM
Lenore Embick Flower – Celebrate Women's History Month – Presented by Dawn Flower-Webb and Lenore R. Flower
Wednesday, March 8, 2017: 1:30 PM
Women and Women's Groups of Cumberland County in World War I – Celebrate International Women's Day – Presented by Sandy Mader
Past Talks and Presentations
2016
Poetry Reading by Mary Anne Morefield
Mid-Century, Middle Class, and Modern presented by Wendy Pires
The Park Before the Park presented by Dr. Andre Weltman
Carlisle Indian School Outings along the Railroad, Carlisle to Gettysburg presented by Barbara Landis
2015
Mills of Cumberland County – 2015 Cumberland County Historical Society Exhibit Opening presented by from Richard Tritt, CCHS Photo Curator and Dr. Dorothy Merritts of Franklin and Marshall College.
Shared Histories of African Americans and Native Americans in Cumberland County presented by Sandy Mader
2014
Carlisle Journeys: American Indians in Show Business
2013
Millicent Line Kitzmiller presented by Sandy Mader
For additional information on any of our programs, please contact:
Lynda Mann, Programming & Membership Coordinator at 717 249 7610.