Tours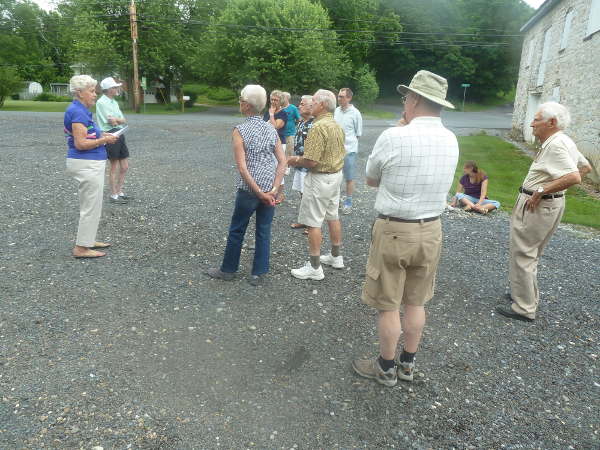 Letort Headwaters Tour:  Walking Tour of the Historic Watercress Farm
Date: Friday, May 12, 2017 6 PM
Location: 985 SOUTH SPRING GARDEN STREET, CARLISLE
Within the Cumberland Valley lay some of the world's most popular fly fishing spring-fed creeks – Letort, Falling Springs, Yellow Breeches, plus more! Thanks to the natural bounty and cultural history of the Cumberland Valley, the Letort Spring Run is perhaps one of the most historic trout streams. Local communities like Carlisle were established here because the Letort Spring Run provided them with what was needed to survive and prosper. Now known almost exclusively for worldclass fly fishing, the communities' historic reliance on the Letort Spring Run has been largely forgotten. Join us for a walking tour to learn about this unique property's many layers of value – the layers of historic and cultural, agricultural, ecological, and recreational qualities while also learning more about Central Pennsylvania Conservancy's work to purchase, restore, and preserve this natural mecca of consistent, cool water that hosts remarkable vegetation, insects, and fish populations.
Stay with us after the tour for dinner – bring $10 for a wood fired oven-artisan pizza! Tour begins at 6:00pm – Wear pants and sneakers or hiking boots. Tour will last approximately 45 minutes; restroom available
A collaboration between South Mountain Partnership, Central Pennsylvania Conservancy, Cumberland County Historical Society, and Letort Regional Authority.
One Block, 300 Years of Cumberland County History Tour
Dates: Monday, May 15, 2017 6:00 PM; Saturday, July 15, 2017 10:15 AM; Monday, August 14, 2017 6:00 PM
The first block of W. High Street is full of history and stories, some accurate, some not. This walking tour between Pitt and Hanover Streets discusses some of the highlights of the County's history. This includes famous people like Benjamin Franklin, George Washington, President Grant, and Geronimo. We will also hear about significant events in our Country's history including the French and Indian War, the American Revolution, and the Civil War. Along the way we will look for passing trains, trolley cars and flying cannonballs as Cumberland County's history comes alive.
Sign Up!
Carlisle's 19th Century Firehouses Walking Tour
Dates: Monday, June 12, 2017 6:00; Saturday, August 5, 2017 10:15 AM
Join us for an informative walking tour of Carlisle's firehouses from the 1800s. We'll visit six firehouses, look at Carlisle's most burned block, learn about a tragedy where a young lad was run over by a steamer, visit a firehouse where an undercover detective broke an arson ring, and talk about dozens of other interesting events.
Sign Up!
Self Guided Camp Michaux Walking Tour
For over ten years, the Cumberland County Historical Society has supported the development of increased understanding of the history of a site in Cooke Township known as Camp Michaux.  The site had been used as a farm associated with the iron industry from 1787-1912, and then as a farm leased by the state from 1913-1919.  in 1933 the site became the first Civilian Conservation Corps Camp in Pennsylvania operated on State land and continued to function until 1942.  In 1943, the U.S. Army converted the CCC facility for use as a secret interrogation camp for enemy German and Japanese prisoners of war, on of only three such sites in the country.  After WWII, the facility was renovated and operated by Camp Michaux, Inc., a joint effort of the United Church of Christ and the United Presbyterian Church, as a youth summer camp.
CCHS has supported increasing accurate knowledge about the history of the site by offering twice annual tours of the site conducted by now retired librarian David L. Smith.  They also published a book by John P. Bland entitled Secret War at Home:  The Pine Grove Furnace POW Interrogation Camp.  In 2010, the Society, in partnership with Michaux State Forest, received a grant from the Community Conservation Partnership Program, Environmental Stewardship Fund under the administration of the Department of Conservation and Natural Resources, Bureau of Recreation and Conservation to improve accessibility to the site and bring increased recognition regarding its history.
The grant project, entitled Camp Michaux Recognition and Development has three main goals.  Under the leadership of David Smith, the project has secured an official State Historical Marker for the site which will be dedicated in July of 2011.  Trails have been opened at the camp and individual sites cleared to make them more visible to the public.  A self-guided walking tour book has been written.  The book is keyed to numbered posts that have been erected throughout the former camp.  The book is available for downloading below.  The third goal of the project is to list the property on the National Register of Historic Places.  The nomination process for this phase of the project is still in progress.
Click here for a pdf of the Camp Michaux Self-Guided Walking Tour
Bunker Hill Farm
Pine Grove Furnace CCC Camp
Pine Grove Furnace POW Interrogation Camp
Church Camp Michaux
by David L. Smith, Director
Camp Michaux Recognition and Development Project
Cumberland County Historical Society
2011