Carlisle Copper Kettles – Window to History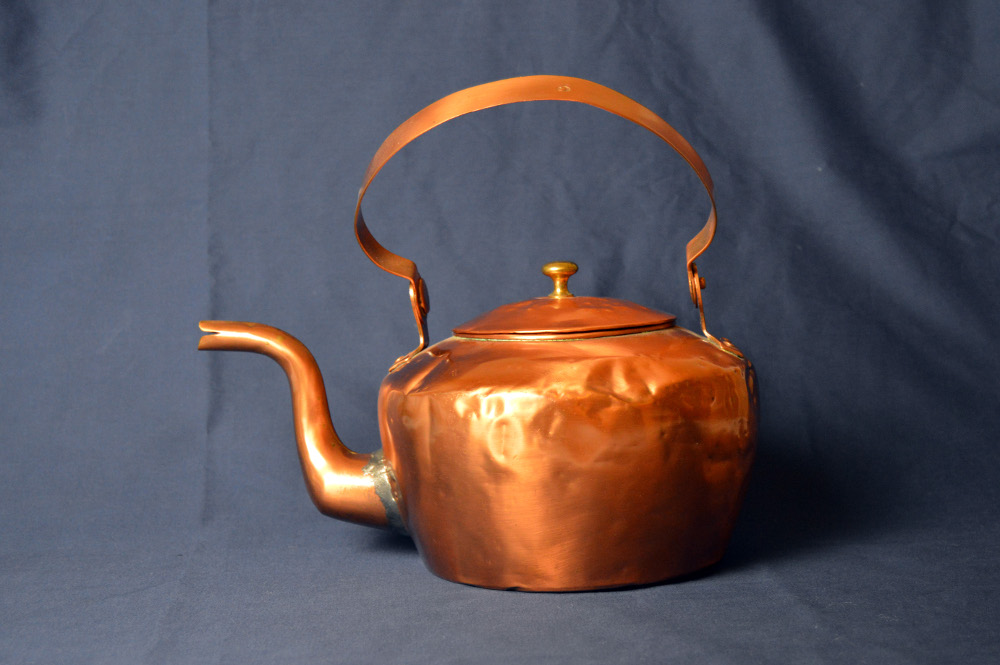 Copper kettles were being made in Carlisle at least as early as 1789, as seen in an advertisement in the Carlisle Gazette. The kettles on exhibit here were probably made around the 1820s.  Their apple shaped body and gooseneck spout represent a typical American form.  Each kettle began as a flat sheet of copper, which a craftsman cut into pieces that would be hammered into shape and soldered together.  Notice how the dovetailed pieces in the body of the kettles are joined together with a brass mixture.  Copper is an excellent conductor of heat and these kettles would have boiled merrily away on top of an iron stove.  However, if the kettle boiled dry and overheated, the joint could fail.  The smaller kettle has a resoldered spout – possibly a later repair made just for that reason.
This Window to History is on exhibit until January 2018.
Caption: Kettle
Abel Keeney, Carlisle
This three-quart kettle is stamped very faintly on its handle: "Keeney/Carlisle 3."  Abel Keeney worked in Carlisle c. 1818-1845.  During a period in the 1830s he had a shop on North Hanover Street and advertised profusely in the local newspapers.