Beyond History: A Not-So Typical Internship at CCHS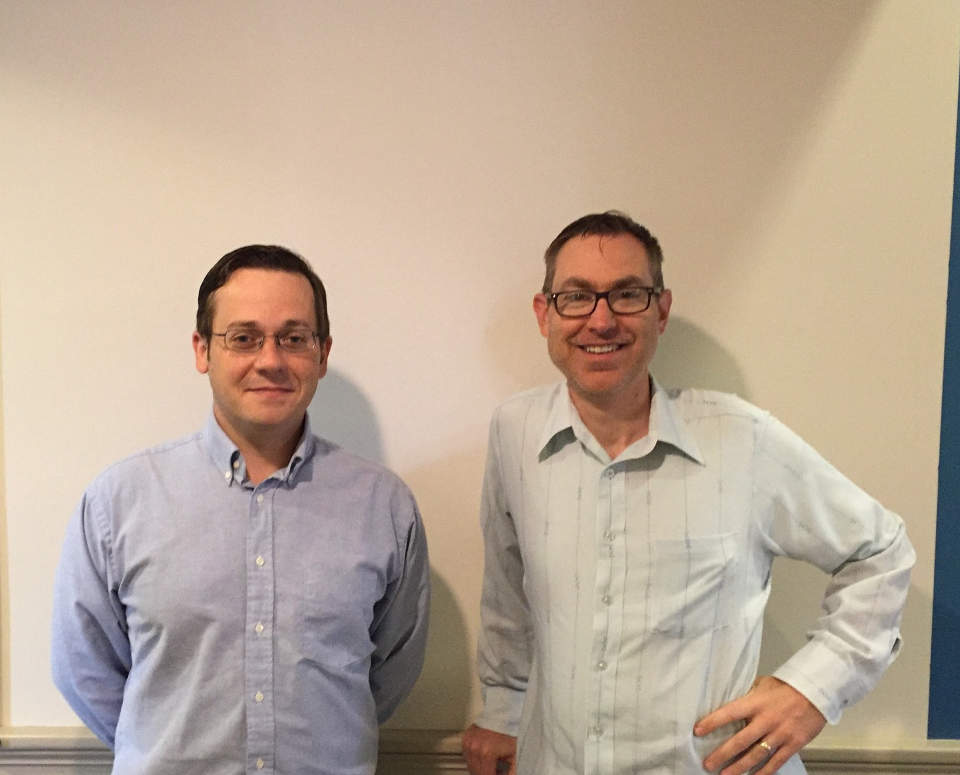 With having to fulfill an internship requirement for the completion of a B.A. in Public History at Shippensburg University I began to look for opportunities.  After a visit to the Cumberland County Historical Society's impressive museum I knew I had found a place that I was interested in working with.  I quickly gathered the proper documentation and applied.  Soon thereafter I received an email from Jason Illari the Executive Director of CCHS.  After a successful interview Mr. Illari offered me an internship position working directly with him.
On entering my internship at the Cumberland County Historical Society, I really did not know what to expect.  I just knew that I would be shadowing Mr. Illari, learning from him what the job of Executive Director entails and what goes in to the daily running a small nonprofit museum. I had figured that the position of Executive Director was that of a historian who does a little bit of administrative work on the side.  I was surprised by how wrong I was.  Through my daily work with Mr. Illari I have learned just how much event planning, fundraising, and administrative work are a part of the daily life of an executive director.
My first week at CCHS I hit the ground running with the preparations that were necessary for the annual Cumberland County Historical Society Golf Classic.  On Friday, June 24th I participated along with the staff of CCHS in supervising the Golf Classic.  This great event helps to raise vital funds that are necessary for the continued operations of the Historical Society.My time at CCHS has given me the opportunity to experience a variety necessary functions around the Society ranging from escorting the air conditioning repairman around the museum, to proof reading the Fall/Winter 2016/2017 Brochure of Events, to working in the museum shop History on High, to helping to prepare Two Mile House for a board meeting, to creation of invitation letters to an event thanking supporters of the Society for their generous donations.In addition to these side projects, Mr. Illari tasked me with helping the Cumberland County Historical Society with the updating of their Disaster Preparedness/Emergency Response Plan.  This plan is a part of a set of core documents that the Society needs to complete in order to apply for accreditation with the American Alliance of Museums (AAM).  AAM is an organization that holds its member museums to a high standard of professionalism. CCHS continues to move toward its goal "to become a national model for demonstrating how history, story-telling, material culture and preservation promotes social well-being, service and citizen engagement with local resources."
The experience of researching the Disaster Preparedness/Emergency Response Plan has been a truly eye opening experience.  I never thought about all of the things that a museum must be ready for in the event of an emergency.  Not only does the Society need to ensure the safety of its staff, volunteers, and patrons but it also has to ensure the safety of its collections.  These collections are an integral part of the community of Carlisle and the other neighboring towns in Cumberland County and represent the tangible part of the collective memory of central Pennsylvania.The other thing that struck me was the amount of community outreach CCHS engages in, not only does it participate in the Summer Block Party, it also has its History Workshop on High Street in Carlisle that teaches children the importance of the county's history.  In addition CCHS is in the process of creating its Access to History Pocket Park.  The pocket park will not only help to beautify the historic downtown area of Carlisle, it also will be an interactive history exhibit and will point the direction to other important historical sites located throughout Cumberland County.
My time at the Cumberland County Historical Society has been very rewarding to me.  It has taught me that research and exhibits are not the only things that are required to be successful in the field of public history.  One must remain flexible and be prepared to do what is necessary to support researchers, ensure the survival of the institution, play a prominent role in the community, as well as protect historical collections. I cannot thank the staff at the Cumberland County Historical Society, and Mr. Illari in particular, for the relaxed and friendly atmosphere that they have created as well as the experiences and opportunities that they have given me to learn more about what goes in to the daily running of a small nonprofit museum.  My time spent as an intern at CCHS has been highly enlightening and enjoyable.  I highly recommend the internship experience at the Cumberland County Historical Society to any history student that needs to fulfill an internship requirement to complete their degree.
Jevin Orcutt, Shippensburg University, Public History Major
Interested in interning at CCHS? Learn more here.