A Very 1960s Christmas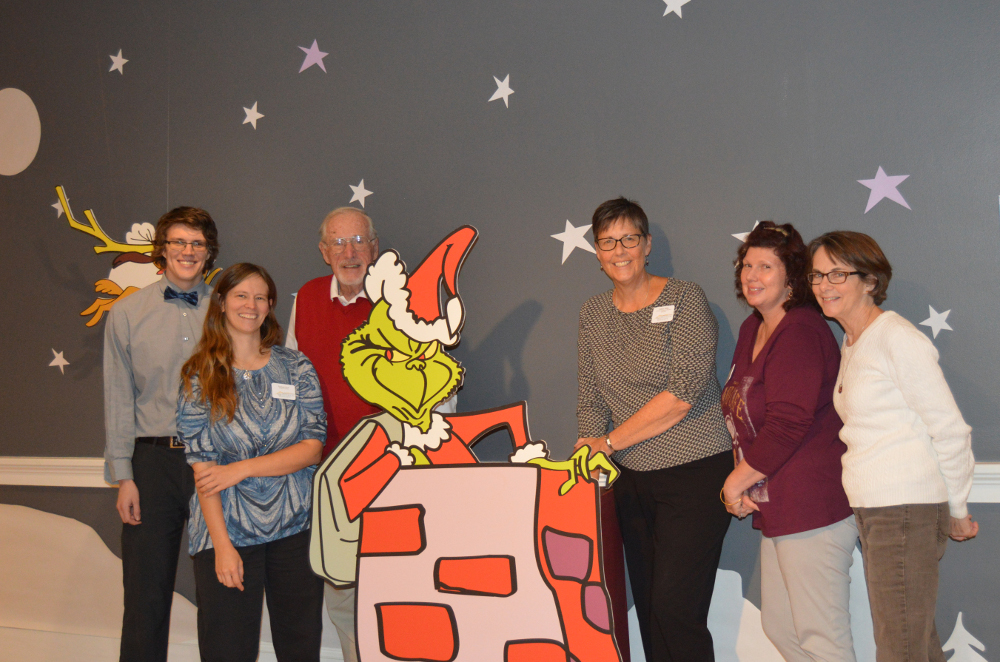 It's snowing in the Miller gallery here at the historical society. Frosty's hat is working it's magic.  Charlie Brown and Snoopy are picking out a Christmas tree.  Rudolph is discussing flight plans with one of the elves.  Grinch and Max the reindeer dog are stealing through Whoville.
Ummm…..what!?
Oops!  ….just getting into the spirit of our free upcoming holiday exhibit and family craft program.
For the past 10 years Head Museum Curator Rachael Zuch and I have had the great fun of developing a free holiday exhibit for the month of December. Then we get together with Education Curator Matthew March to develop crafts for a free family holiday program always held the first Saturday in December. The crafts are related to the theme of that year's exhibit.
We start thinking about Christmas in June or July.  What kind of exhibit do we want to do?  What would we have fun putting together? What did we like best about Christmas when we were kids?   (Did I mention I have a Dream Job?  I do.  I have a dream job.) This year, after seeing the enthusiasm for The 1960s exhibit in Cumberland County we thought people might enjoy taking a few selfie's with some 1960s Christmas television characters.  And then our Executive Director Jason Illari suggested we provide Polaroid cameras in the exhibit for a 60s style photo session.  And so, the exhibit Grin with the Grinch is born. See what I mean? A dream job.
Here's a sneak peek of what's going on in Miller gallery these days. It sounds like Santa's workshop in there.
The free family holiday program Saturday, December 3rd runs from 10am to 12noon and is great fun. Families spend two hours doing holiday crafts designed for a variety of skill levels from kindergarten to middle school. It's a terrific time for parents to do crafts with their kids without all the mess to deal with afterwards. And if you are not the crafty type, no worries. Our fantastic CCHS volunteers will show you how to do it.  We always have a Special Visitor show up during the program so be sure to bring your camera. You'll want to catch that moment when your child is telling Santa what she wants for Christmas.
This year's holiday exhibit Grin with the Grinch opens Friday, December 2nd.  The exhibit is one big holiday photo opportunity.  Visitors can snap selfies and a Polaroid with characters from 1960s Christmas TV Specials. You can even take your family Polaroid over to the G.B. Stuart History Workshop (33 High Street, Carlisle) and make a Christmas tree ornament frame with it. And if you come in to the see the exhibit on the same day as our holiday family program you'll be able to get a photo of your kids with Santa, too.
Ok.  So did I mention the exhibit and the family holiday program are free?  And great fun?
Hope to see you there!  And early wishes to you and your loved ones for a wonderful holiday season,
Peggy Huffman
Assistant Museum Curator at the Cumberland County Historical Society