Carving, Wilhelm Schimmel Eagle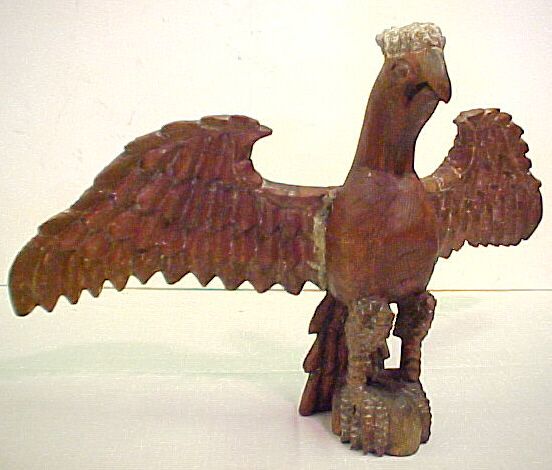 Description:
Large pine wooden carved Schimmel spread wing eagle.  Frowning beak, crest on head.  Original paint has been stripped, showing traces of contemporary maroon and silver paint.  Wings contain reverse side crosshatching and have been re-attached to body.  Neck extends forward with cross hatched top.  Base shows hand drilled hole.
Provenance:
John Hensel Jr. eagle.
The original owner of this eagle was the Hensel family, who lived near Newburg, PA.   Since they spoke German and made travelers welcome, "Old Schimmel" was a frequent visitor.
Having finished the evening meal, Schimmel was teasing their young son John.  He said to the child, "If you kiss the hired girl, I'll carve you something."  John did as he was asked and Schimmel carved this eagle.
Eventually, the eagle was placed on the fireplace mantle of the summer kitchen.  He became smoked, dusty and fly specked.  Since the family wash was done in this building, it was traditional to stick the eagle in the wash tub several times a year, and scrub him.  It was probably the water that caused the glue holding the wings fast to loosen and the wings came off. John took the parts to the local buggy factory in Newburg and asked its owner, Alonza Staver, to reglue it.
Additional Information:
Three photos of this carving are in the Cumberland County Historical Society's Photo Archives and are numbered 38B-19-11, 38B-19-12, and 38B-19-13.