CCHS Volunteer Shorts: Pat Singley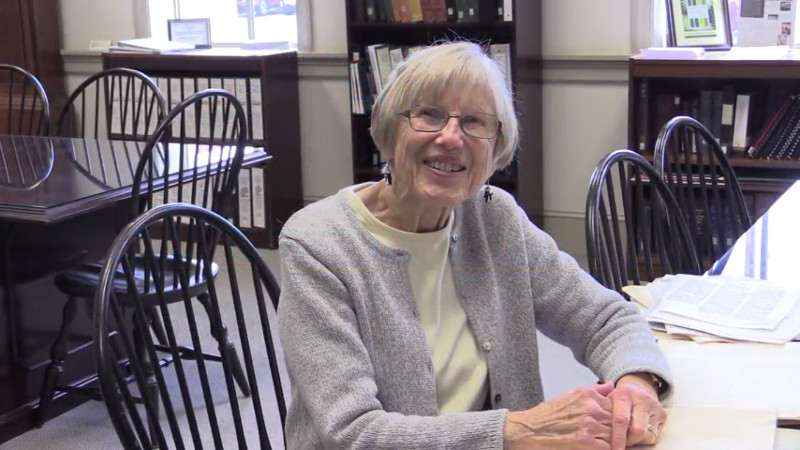 Interview of Pat Singley a volunteer in the Hamilton Library of the Cumberland County Historical Society beginning in February of 2015. Singley discusses the projects she has worked on at CCHS as well as what made decide to volunteer.
Transcript:
Blair Williams: I am here today at the Cumberland County Historical Society Library with Pat Singley. And Pat I will start off by asking you what you do here as a volunteer?
Pat Singley: I've been cataloging things that have been donated to the library. I started earlier this year [2016] on some things from a book that was written about the internment camp that was here in the area. And now doing papers from the Allenberry Playhouse Collection. Of which there are many.
BW: How long have you been a volunteer?
PS: I think I started in February of this past year [2016].
BW: What made you interested in volunteering here at the Historical Society?
PS: I moved to Carlisle last January and before that I had lived in Scottsdale, Arizona and I was in the Historical Society. Which is really more of a museum than a historical society such as this. But I volunteered there for almost twenty years. And I enjoyed that. And my friend, a board member Rudy DeFrance, brought me here and the next thing I knew I was volunteering.
BW: What is your favorite thing about volunteering here?
PS: I like the people. Something that was important to me was learning more about this area which I knew nothing about. I knew it was here but I didn't really know that much about the history of Carlisle. And so I've learned quite a bit in my time here.
BW: You've only been here a short little while but what is the most interesting thing you've come across?
PS: That's hard. It's all been interesting. I think the first thing I worked on with David Smith had do this research or not research but catalog the papers from this book about the Prisoner of War Internment Camp. I had no idea that was here. I had been to the Allenberry Theatre many times with my daughter who lives in the area when I came to visit but I think the most interesting thing was all of the new information I am gleaning from volunteering here.
BW: I can certainly say we are glad to have you here. And I am sure Scottsdale is a little bit disappointed they lost you but are glad to have you. So thank you so much for volunteering and with talking with me.
PS: You're very welcome.