Tours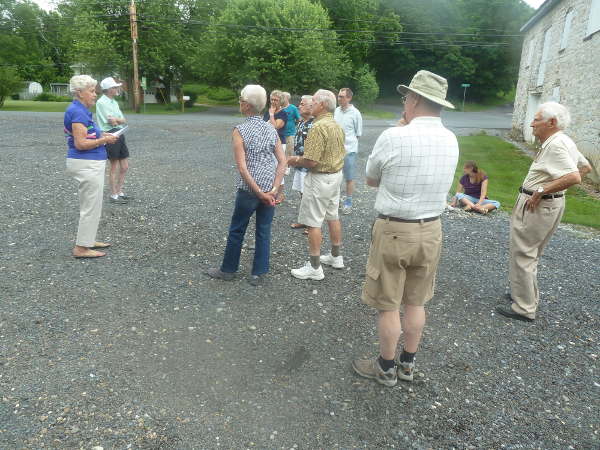 CCHS 2018 Ireland Tour
Dates: September 27 – October 7, 2018
Join the CCHS tour of Ireland in 2018 exploring parts of the Wild Atlantic Way and the Ancient East. While traveling Ireland learn Limerick's history on the Angela's Ashes Walking Tour, learn Waterford's ancient history and Viking connection on a historic walking tour, and delve into Dublin on your guided tour. Enjoy an Irish Coffee at the place it originated and experience a jaunting car ride in Killarney National Park.
In addition to the above visits the price includes: 9 nights hotel accommodations, breakfast daily, and 5 dinners with overnight stays in Limerick, Killarney, Waterford, and Dublin. Airfare and roundtrip transportation to and from the airport.
Self Guided Camp Michaux Walking Tour
For over ten years, the Cumberland County Historical Society has supported the development of increased understanding of the history of a site in Cooke Township known as Camp Michaux.  The site had been used as a farm associated with the iron industry from 1787-1912, and then as a farm leased by the state from 1913-1919.  in 1933 the site became the first Civilian Conservation Corps Camp in Pennsylvania operated on State land and continued to function until 1942.  In 1943, the U.S. Army converted the CCC facility for use as a secret interrogation camp for enemy German and Japanese prisoners of war, on of only three such sites in the country.  After WWII, the facility was renovated and operated by Camp Michaux, Inc., a joint effort of the United Church of Christ and the United Presbyterian Church, as a youth summer camp.
CCHS has supported increasing accurate knowledge about the history of the site by offering twice annual tours of the site conducted by now retired librarian David L. Smith.  They also published a book by John P. Bland entitled Secret War at Home:  The Pine Grove Furnace POW Interrogation Camp.  In 2010, the Society, in partnership with Michaux State Forest, received a grant from the Community Conservation Partnership Program, Environmental Stewardship Fund under the administration of the Department of Conservation and Natural Resources, Bureau of Recreation and Conservation to improve accessibility to the site and bring increased recognition regarding its history.
The grant project, entitled Camp Michaux Recognition and Development has three main goals.  Under the leadership of David Smith, the project has secured an official State Historical Marker for the site which will be dedicated in July of 2011.  Trails have been opened at the camp and individual sites cleared to make them more visible to the public.  A self-guided walking tour book has been written.  The book is keyed to numbered posts that have been erected throughout the former camp.  The book is available for downloading below.  The third goal of the project is to list the property on the National Register of Historic Places.  The nomination process for this phase of the project is still in progress.
Click here for a pdf of the Camp Michaux Self-Guided Walking Tour
Bunker Hill Farm
Pine Grove Furnace CCC Camp
Pine Grove Furnace POW Interrogation Camp
Church Camp Michaux
by David L. Smith, Director
Camp Michaux Recognition and Development Project
Cumberland County Historical Society
2011