War Amongst the People / From Swords to Plowshares Exhibit Openings
August 31, 2022 @ 10:00 am

-

4:00 pm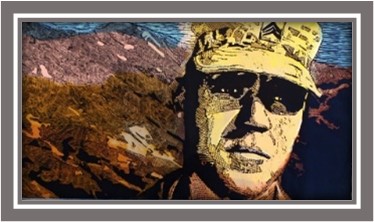 War Amongst the People / From Swords to Plowshares begins its run at the G. B. Stuart History Workshop (29 W. High St. Carlisle, PA 17013).
The J. Sherwood McGinnis, Jr. War, Peace, and Justice Project, in collaboration with the Cumberland County Historical Society and The Arts & The Military's ART-ifacts Collection, present the Project Welcome Center and exhibition.
An exhibit organized in two parts around Project themes – the history of war making in America, and the costs of war.
War Amongst the People includes a timeline of American wars and interventions at home and abroad, and a section titled From the French and Indian War to the Wars in Iraq and Afghanistan, that briefly introduces the concept of an American way of war.   Both demonstrate how war has been a part of American life since the early settlement of North America, despite attempts by the early Quaker leader, William Penn, who envisioned a peaceful coexistence with the Indigenous people.  A timeline, a painting, and several modern reproduction artifacts introduce the French and Indian War.  From Swords to Plowshares features ghost-like "portraits" of Russian and Polish Jews killed during the WWII era Holocaust, as well as artwork that depicts the experiences of Iraq and Afghanistan veterans whose images on paper handmade from military uniforms, military hospital scrubs, and refugee clothing explore themes of service, sacrifice, and the costs of war.
On display are two war timelines, modern reproductions of French and Indian War artifacts from the collections of Tad W. Miller (USAF, Ret.), and 49 objects of artwork, poetry, and music from The Arts & The Military's ART-ifacts Collection – www.artsandmilitary.org, and from the collections of Tara Leigh Tappert, Ph.D., curator of this exhibition.
A sound layer of military-inspired music streams in the background – from songs by contemporary veteran/musicians, to classical renditions written in response to war.  Short films will screen periodically, bringing further understanding as to why veterans, military family members, and civilians impacted by war find cathartic and spiritual value in creative expression.
Special thanks to Cor Christi Institute for financial support of the J. Sherwood McGinnis Jr. War, Peace and Justice Project.